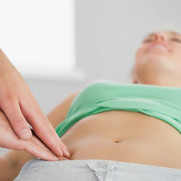 Pelvic health physical therapy involves treating pelvic floor dysfunction and related conditions. Pelvic floor disorders are very common, but are often left untreated. Many individuals suffer needlessly for years or even decades. Symptoms vary greatly but can include: urinary leakage, pelvic pain, frequent or painful urination or defecation, constipation, pain with sex.
During pelvic floor therapy, we teach you exercises to stabilize and strengthen your core, or the major muscles that stabilize the trunk, including the pelvic floor, abdominal, back, and diaphragm. This also involves re-training and strengthening your pelvic floor muscles.
Your therapist will determine which muscles are overly tight and teach you exercises to stretch these muscles to improve coordination and mobility. We will also teach you postural exercises, relaxation techniques, and diaphragmatic breathing that can improve symptoms and your overall health and sense of well-being.
The specific treatment approach we recommend for your needs will depend on your symptoms. To improve some symptoms, you will need to relax and lengthen pelvic floor muscles, while other symptoms will require you to strengthen those muscles.
Our therapists will also work with you on behavioral modifications, including dietary and lifestyle modifications that will relieve symptoms and improve your quality of life.
Some of the conditions we treat include:
Bladder dysfunction
Bowel dysfunction
Constipation (Dyssynergic Defecation)
Dyspareunia (pain with sex and/or penetration)
Endometriosis/adenomyosis
Fecal Incontinence
Incomplete Emptying of Bladder or Bowel
Interstitial Cystitis/Painful Bladder Syndrome
Myofascial Pelvic Pain Syndrome
Pelvic Floor Muscle Dysfunction
Pelvic Organ Prolapse
Pelvic Pain including Chronic Genital Pain
Pre and Post Pelvic Surgery
Pregnancy and Post-Partum Musculoskeletal Conditions
Prostatitis
Urinary Incontinence
Urinary Urgency/Frequency
Vaginismus
Vestibulodynia
Vulvodynia