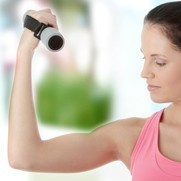 Physical reconditioning or individualized exercise training is designed to help a client regain their movement and flexibility along with muscle strength and muscle endurance. Performing physical exercise is essential for maintaining physical fitness, maintaining a healthy weight, maintaining muscle strength, and promoting joint mobility, physiological well-being, and healthy immune system functioning.
Physical reconditioning is an aspect of physical therapy that provides those clients who have become physically deconditioned to receive one-on-one supervised fitness training and conditioning. Physical deconditioning could come from a disability following an illness or injury or could come from general wear and tear that the body has experienced over a long period of time. A specific injury is not a requirement for exercise training; however the focus is on the loss of functioning while performing daily activities or discomfort when performing these activities.
Reconditioning is based on the functional perspective of fitness with a major focus on the areas of regular and daily living activities. The goal is to guide the client back to a physical state that facilitates better performance at home and at work.