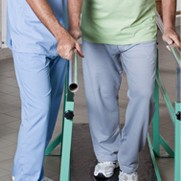 This type of physical therapy involves the diagnosing, managing, treatment, and prevention of injuries to the musculoskeletal system. Orthopedic physical therapists will often care for individuals of all ages that have a disorder or dysfunction of the musculoskeletal system. These therapists specialize in the assessment of movement and are able to help individuals move better, often with less pain. This can be achieved through therapeutic exercise, patient education, and skilled manual therapy. Typically, orthopedic physical therapy is delivered in an outpatient rehab setting; however, therapy of this kind can take place in hospitals, homes, industrial locations, and at sports clinics.
Orthopedic physical therapists will often manage patients for the following health conditions:
• Joint sprains/pain/swelling, including knee and ankle injuries
• Post-operative rehabilitation from orthopedic surgical procedures
• Low back and neck pain
• Chronic pain
• Tennis/golfer's elbow• Rotator cuff injuries and other shoulder problems
• Muscle strains
• Carpal Tunnel Syndrome
• Osteoarthritis
• Plantar fasciitis
Orthopedic physical therapy quite often includes rehabilitation after orthopedic surgery, which commonly takes place in the out-patient clinical setting. The orthopedic therapist has been trained in the treatment of arthritis, back and neck pain, strains, fractures, acute sports injuries, amputations, spinal conditions, and post-operative orthopedic procedures.
Specific modalities that are often used to expedite recovery in orthopedic treatments and will include joint and spine manipulation or mobilization, therapeutic exercise, hot/cold packs, dry needling, EMS or electrical muscle stimulation, and neuromuscular reeducation. There has been an emergence of sonography use by physical therapists to help with the initial diagnosis phase and to help with muscle retraining treatments.
Anyone who has suffered an injury or disease of the musculoskeletal system could benefit from an assessment from an orthopedic physical therapist.