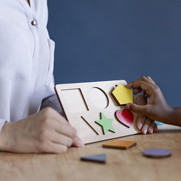 Many individuals with MS suffer from cognitive symptoms. These symptoms affect all aspects of daily life and are often described as "brain fog", but can also manifest as headaches, fatigue, and being easily overwhelmed. Individuals will report difficulty with learning and memory, inability to focus (especially in busy environments), slower processing speed of information and difficulty making decisions.
Studies have shown that participating in cognitive rehabilitation can have a beneficial effect on cognitive function in patients with MS. Cognitive therapy activities can be classified as either restorative or compensatory. Restorative activities aim to actually increase the function of the brain by retraining the brain to form new connections and pathways. Compensatory therapy will help the patient develop strategies and techniques to compensate for cognitive impairments.
If you or a loved one have been diagnosed with MS, cognitive rehabilitation is an important part of your treatment plan. We would love to be a part of your MS team.