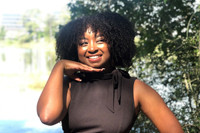 Adoriam DeWalt is from Houston, Texas and graduated from Cypress Creek High School. She is attending Texas A&M University and is majoring in Environmental Engineering.
Message from Recipient:
"I feel so blessed to be selected for this scholarship, and I want to first start off by saying thank you to Arctic Physical Therapy for granting me this scholarship, and thank you to my family and friends for looking over my application and giving me feedback to ensure the best for me. I will be using these funds for my Spring semester books and class supplies, and any remaining funds will go to Clubs and organization expenses. Specific classes like MATH 151, ENGNR, and PHYS can become very costly, so recovering the scholarship will help me greatly, thank you!"